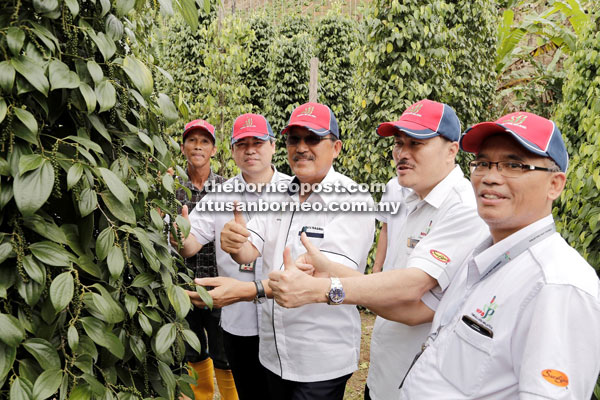 KUCHING: Malaysian Pepper Board (MPB) is undergoing agency transformation phase which includes internal restructuring and empowerment of its downstream activities.
In stating this, Deputy Minister of Plantation Industries and Commodities Datuk Nasrun Datu Mansur revealed that the export value of pepper was RM490.2 million last year, a reduction of 4.6 per cent from RM513.9 million in 2015.
"Japan was a major export destination in 2016, which accounted for 25.7 per cent or RM142.9 million. Other major export destinations for Malaysian pepper are China, Taiwan, Singapore and South Korea," said Nasrun, adding that there are 67,034 pepper smallholders in Malaysia and 99 per cent of them are Bumiputera.
Nasrun was met during a press conference at Malaysian Pepper Board office here yesterday. Earlier, he visited one of the projects by MPB, 'Projek Pembinaan Pusat Pembangunan dan Pengembangan Industri Lada Negara (PILN)' which involves an allocation of RM40 million.
The project, located at Semenggok, is expected to be completed in 2020.
"PILN will play an important role in research and development, construction and development of pepper and act as a reference to the pepper industry players as well as to boost the development of the country's pepper industry which is expanding rapidly," he said.
Nasrun had the opportunity to meet 70 pepper smallholders during the 'Program Ramah Mesra' at a pepper farm in Bengoh Resettlement Scheme near Padawan.
"The government really appreciates all the hard work and contribution of pepper smallholders in the country who helped a lot in the development of the pepper industry and will continue to give special attention to the development of the smallholders sector to ensure the productivity and quality of our pepper can be increased, thus increasing their income at the same time."
He emphasised that the improvement of pepper productivity can be achieved through, among others, good agricultural practices that involve the use of high quality pepper keratin, fertilisation techniques, weed control and pest control methods.
Through MPB, the government has also been providing assistance and appropriate incentives to pepper farmers such as the 'New Plantation Scheme' and 'Skim Pengeluaran Lada Berkualiti Eksport Peringkat Ladang'.
"It aims to compete with other countries that also carry out various pepper-related activities and hopefully increasing exports of our high value pepper today," said Nasrun.
Nasrun pointed out that the price of pepper has been stabilised after a slight decline at the end of last year.
"The average price of black pepper in January this year has reached RM19,000 per metric tonne, while the price of white pepper has reached RM32,000 per metric tonne.
"It is hoped that pepper farmers will be able to take advantage of the pepper price stability in the market today and can also provide proper storage for future use if the price of pepper is on a decline," he added.
Present at the press conference were Malaysian Pepper Board director general Harry Entebang and Ministry of Plantation Industries and Commodities deputy secretary general Dr Zurinah Pawanteh.
Sumber/Source : Borneo Post Online